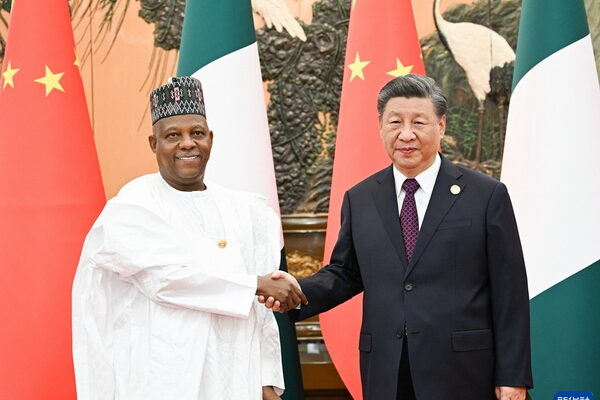 Strengthening China-Nigeria Ties: A Decade of Belt and Road Cooperation
In a significant diplomatic meeting, President Xi Jinping welcomed Vice President of Nigeria, Kashim Shettima, to the Great Hall of the People on October 18, 2023. Shettima's visit to China was in connection with the third Belt and Road Forum for International Cooperation (BRF), marking a pivotal moment in the longstanding relations between the two nations.
A Decade of Dynamic Cooperation:
President Xi Jinping highlighted that this year commemorates the 10th anniversary of the Belt and Road Initiative and the introduction of the principles of sincerity, real results, amity, and good faith in China's Africa policy. This decade-long journey has witnessed remarkable achievements in Belt and Road cooperation between China and Africa, with numerous landmark projects coming to fruition.
Notable Successes in China-Nigeria Collaboration:
A particular highlight in this cooperation has been the robust partnership between China and Nigeria. The completion of pivotal projects including railways, ports, power stations, and communications backbone networks exemplifies the fruitful collaboration. Furthermore, significant strides have been made in the development of free trade areas, bolstering economic growth and regional integration.
A Vision for the Future:
President Xi Jinping emphasized the enduring commitment to the principle of mutual respect and mutual benefit that has underpinned the diplomatic relations between China and Nigeria for over half a century. In an era marked by global uncertainty, both nations recognize the imperative of strengthening their solidarity and cooperation.
Empowering Nigeria's Modernization Journey:
China stands in full support of Nigeria's pursuit of modernization tailored to its unique national context. To this end, the two nations are poised to intensify personnel exchanges across various levels, fostering high-quality, practical cooperation that spans various sectors.
Nigeria's Role on the Global Stage:
China is unwavering in its backing of Nigeria's expanded role in international and regional affairs. The two nations are poised to enhance strategic coordination, advocating for democratic values in international relations while championing the collective interests of developing countries.
The meeting between President Xi Jinping and Vice President Kashim Shettima underscores the deep-rooted and dynamic partnership between China and Nigeria. As they embark on a new chapter of collaboration within the Belt and Road framework, the two nations are poised to chart a course that not only advances their shared interests but also contributes to broader global development and stability.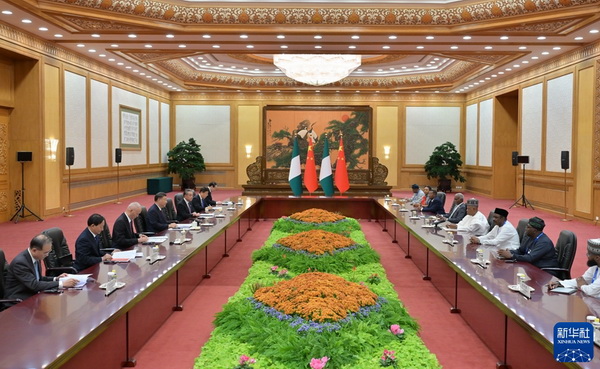 Kashim Shettima congratulated China on successfully hosting the third BRF. He noted that Nigeria and China are good friends who have shared weal and woe and supported each other in times of difficulties. China has always treated Nigeria and other African countries with respect and as equals; it has never bossed them around, and has done its best to support the African people in seeking independence and development. He thanked China for proposing a series of important global cooperation initiatives for developing countries, providing valuable assistance for Nigeria's development, and boosting the industrialization process of Nigeria and Africa at large. He stressed that Nigeria attaches great importance to growing relations with China, unswervingly pursues the one-China policy and remains firmly committed to high-level development of Nigeria-China relations. Nigeria is ready to further deepen Belt and Road cooperation with China and lift Nigeria-China relations to a new level.
Cai Qi and Wang Yi were present at the meeting.